The Africa hospitality gap
Kasada aims to drive change in the African hospitality sector by plugging the gap between supply and demand in the region. Despite strong demographic growth lifting both consumption and production levels, the Sub-Saharan Africa hospitality market remains relatively immature when compared to similar markets.
A shortage of hospitality options combined with a low penetration of the kind of diverse international brands in Accor's global portfolio, limits the movement and commercial activity of not only the locally mobile, but also international travelers.
This has resulted in a strong latent demand for quality accommodation across the positioning spectrum for both African and international visitors that is yet to be fully satisfied.
Established with the purpose of tapping into this opportunity, Kasada, with its innovative and multi-disciplinary approach, is dedicated to fulfilling the unmet hospitality needs of Sub-Saharan Africa.
Untapped market
segments
with current supply failing to address middle-class needs: Upscale & luxury hotels represent 55% of current offer vs. 45% for eco-midscale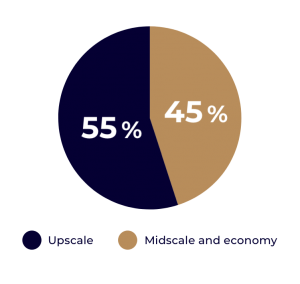 International brands represent 10-12% of the offer in SSA against 23% worldwide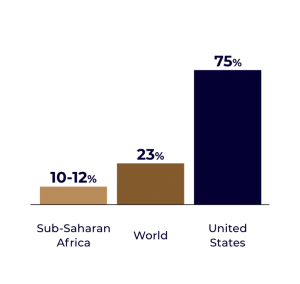 (1)International brands represent 10-12% of the offer in Sub-Saharan Africa compared to 23% worldwide
(2) Limited to 23 Tier-1 SSA cities, as per Collier International report "The African Opportunity" dated 2016.
Colliers International, MKG report